QSO Diary
I have become hooked on the QRP bug and have been slowly designing a portable QRP station. Logging was a bit of a problem, but I have been using a HandSpring Palm clone for a number of years and decided to have a go at writing a logging programme for the Palm Platform.
The result is QSO Diary which is a Freeware logging programme for the Palm Platform. Download it and give it a try - if you like it but have suggestions to make it better, send me an email and I will see what I can do to add in your suggestions. Alternately, if you hate it, drop me an email explaining why and I will see what I can do to make you love it.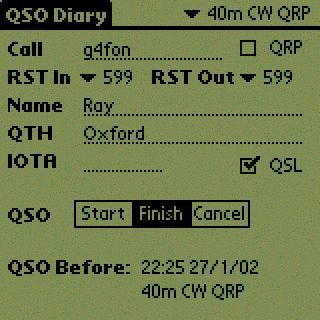 The download contains the Palm Application, a Windows viewer for the log files which can output the entries in ADIF format and an PDF file containing helpful information.
Download the file into a temporary directory, run it to extract the install files and then run Setup.EXE to install the software.
---
Revision History
I did try a self installing executable, but I ran foul of the Microsoft Installer and would have had to add an extra 1.5 MBytes to the download to solve the problem!
Version 1.5 released 1 February 2002 Fixes to issues with editting band information and a change to the time handling to allow the display of UTC on the Palm device. Thanks to Steve VE1SK and Bob N7XJ.
28 January 2002 to fix error deleting a QSO from the database - thanks to Steve VE1SK
28 January 2002 to fix installer issues.
Version 1.8 released 21 February 2002 - automatically invoke Edit Operating Modes menu - thanks to Bob, K9RTM
Version 1.9 released 8 March 2002 - improved search for database file and proper display of the 24 hr clock - thanks to Don, W5FKX
Version 2.1 released 25 May 2002 - New QSO Notes feature and the ability to modify the QSO date and time. Support for older Palm devices which cannot display the Large Bold Font.