Morse Contest Trainer Version 3
Introduction
A few months ago I was approached by Michael, KE8AQW, on behalf of the Long Island CW Club to see if I was prepared to add new contests to my Version 2 trainer - details of which you can find here.

I was staggered to discover that it had been over fifteen years since I last looked at the software but, apart from the authorisation code, it still compiled and built on my much upgraded development platform so I set about adding the new contests, updated the GUI to give it new life too and here are the resuls...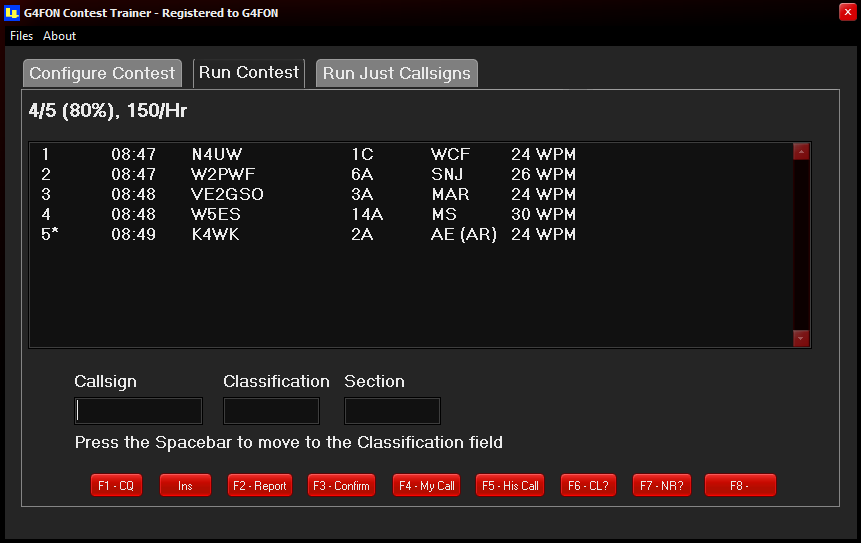 What does it do?
Using the same basic software modules as my Koch Method trainer, this software throws you into the thick of an imaginary contest. Callsigns are sent to you through the PC sound card and you are expected to copy them down, then take the report and finally, log the QSO.

A running list of the logged QSO's is maintained in the top half of the screen, including any errors that you have made -indicated by an * after the sequence number.

At the top of the screen there is an indication of your QSO rate.

In the bottom segment of the screen, you enter the callsign and report for the station calling you. A simple, one line, context sensitive help is provided to help you through the process.

The callsigns used used in the QSO's are those of genuine contesters derived from the master database files, and not just ficticious callsigns generated by the software. Where applicable, the zones and IOTA references are derived from Country files, rather than being randomly generated, to add as much realism as possible to the contest simulation.

A number of different contests are currently supported and I intend to expand the list of supported contests from user feedback and I will possibly offer a way of defining your own contest in a later version.
The cooks tour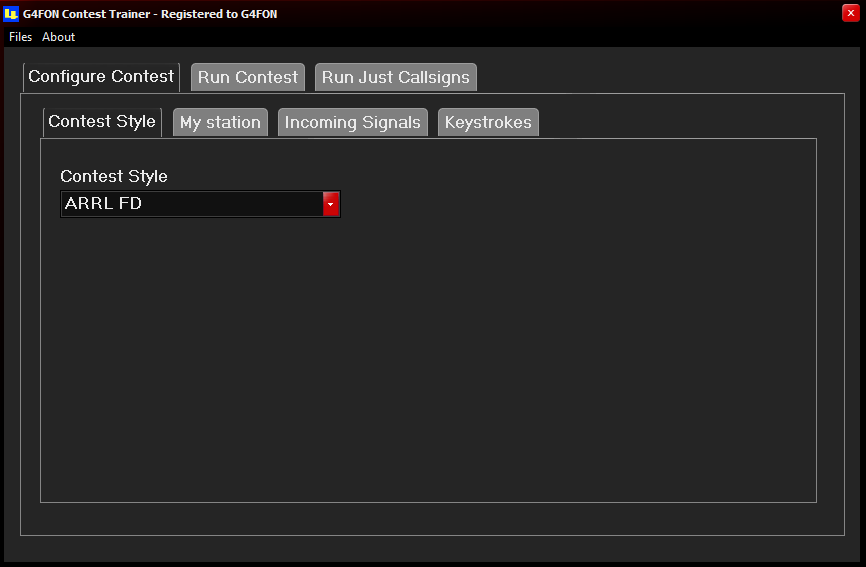 First select the 'Configure Contest' tab at the top of the main window.

On the 'Contest Style' tab, you choose the contest you wish to train for. The choices are:
WPX
CQ WW
IOTA
ARRL FD
ARRL Sweepstakes
CW Ops CWT
NAQCC
SKCC
As mentioned above, each contest makes use of real databases of members or contesters and it is possible to update the databases by downloading a new version.

For club contests, such as CW Ops or SKCC, if you are a member of the club them your membership details will be automatically determined by the software and used in the trainer QSO's.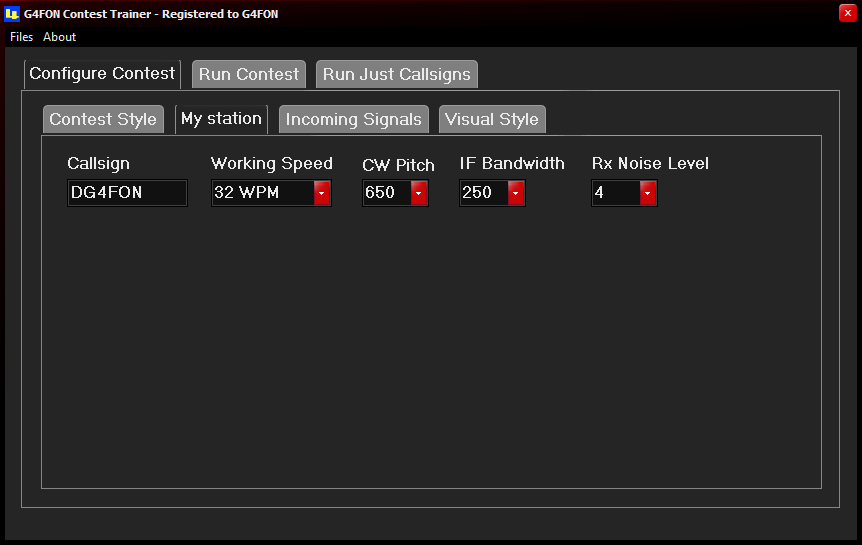 Next, move to the My Station tab.

Here you are able to enter the station callsign you will be operating, the speed at which you want your CW to be sent, your preferred pitch, the IF bandwidth of your receiver which determines the pitch range of stations calling you and your receiver background noise level.

It is possible to turn off the Rx Noise Level altogether, but this is recommended as it makes it more difficult to know whether the trainer is sending or receiving.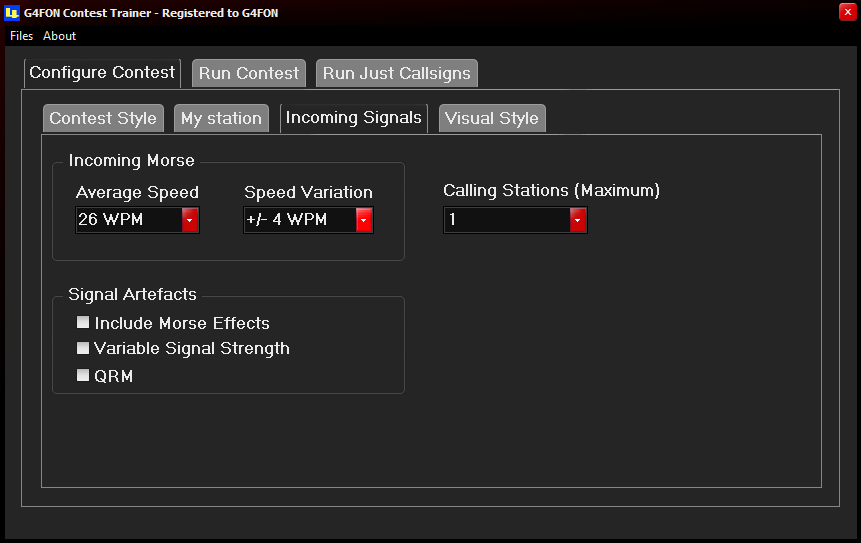 Finally, on the Incoming Signals tab can configure how stations call you during the contest.

Incoming Morse allows you to set the average speed and the variation that stations will use to call you.

Calling Stations (Maximum) sets the maximum number of stations that will answer your CQ - you may not get any stations, in which caste you must call CQ again, or any number of stations upto and including the maximum set.

Signal Artefacts alows you to add distortion to the incoming Morse signals to more realistically reflect what you hear during a contest.

Checking the QRM box will start another contest station adjacent to you as can occur in a contest with lots of activity.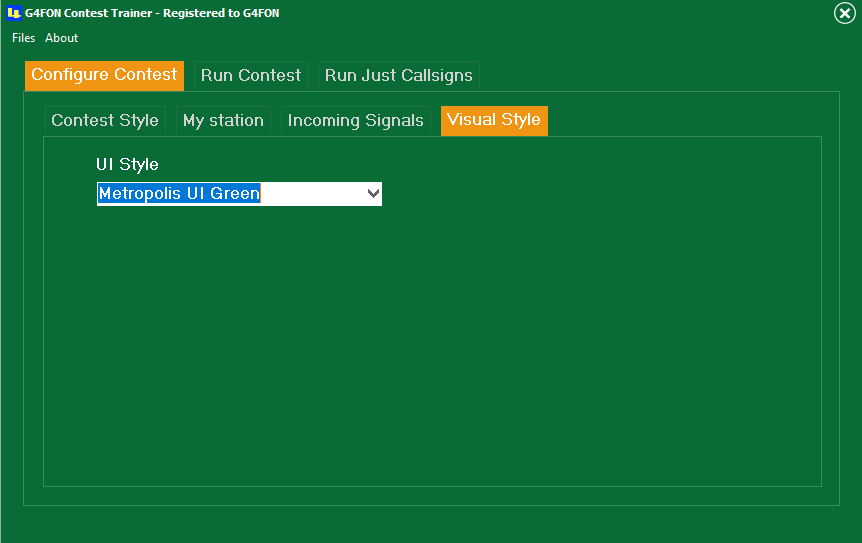 The 'Visual Style' tab allows you to choose from a number of visual styles depending on your mood!

Once you have completed the configuration, click on the 'Run Contest' and your should hear the Rx backgound noise if you have not turned it off - then follow the context sensitive help. I have chosen to emulate the CT keystrokes with this version, but user pressure could convince me to offer a selection of contest software emulations in future releases.

Alternately, you can click on the 'Run Just Callsigns' tab and enter callsigns as they are sent to you. The Morse speed will increase with every correct callsign and decrease if you make a mistake, so it is a challenge!

What's new in the latest version
Click here to find out more details.

Unlike my Morse trainer, this software is shareware, with a registration fee of UK£25 or US$30. The main differences between the shareware and registered version is that in the shareware version the training lesson is restricted to 20 QSO's, you cannot set your station callsign or the contest type and the configuration settings are not remembered each time the software is closed down.


COVID-19 special - to help you make it through the lock down that has beset the world at the moment, you can register the sofware at the special price of UK£15 or US$20.

Registering the software is easy, once I have received your payment, I will email you a registration file which you then load into the software to complete the registration!


Once the software is registered, you are guaranteed free updates for life. The only exception to this that I will pass on the costs of any third party licenses that I may one day decide to use in the software - although frankly this is extremely unlikely.


You can send me a cheque or money order to register the software, or I accept PayPal. Please be sure to include your Callsign and email address when you register the software.

For those of you who have registered Version 2, the old authourisation file is out-of-date, but I have a database of registered users and will happily email you a new authorisation file if you send me an email with your callsign included.
| | |
| --- | --- |
| Buy using UK Pounds | Buy using US Dollars |
System Requirements
The software has been extensively tested on Windows 7 through to Windows 10. Since it is based on my Koch Method trainer, I do not anticipate problems with other versions of Windows, but download a copy and try it out - if you have any problems, drop me an email and I will do my best to assist.

The latest version is always available for download here. Once you have registered the software, you do not have to enter the registation details each time you download an update.

The download is a full installer, simply right click on the downloaded file and select 'Run as Administrator' from the popup menu to install the software.
---
Download the latest Version 3 release!
---
Revision History
Version 3.1.5 released 14 May 2020
Version 3.1.6 released 14 May 2020
Corrected the location of the support files to be Documents\G4FON Software\Contest Trainer. It might make sense to uninstall your current version to prevent duplicate files or delete the folder 'Contest Trainer' in your Documents folder - thanks to Justin K5JTL for spotting the error.
Version 3.1.7 released 19 May 2020
Completed a significant internal realignment of the software in preparation for some new features - watch this space!
Corrected a bug that caused CWOps CWT to sometimes generate an Access Violation.
Corrected a bug in NAQCC which caused '5nn' to be sent twice if the incoming callsign was incorrect.
Contests are now shown in alphabeticaly order - if you have an authorised version the first time you use this version you will need to make sure you are running the correct contest.
Your callsign is now automaticaly set on the 'My Station' tab when your authorisation is applied - thanks to Ed W2LCQ for the suggestion.
Added back the authorisation confirmation window - thanks to Ed W2LCQ for spotting that one.
Version 3.2.1 released 5 June 2020
Version 3.2.2 released 9 June 2020
One feature forward, two bugs back.
Incorrect display of the ARRL RD SO2R results - thanks to Michael KE8AQW.
'Run Callsigns' no longer accepting callsigns - thanks to Tim G4XWJ
Silly Morse speed shown on the first SO2R QSO
Version 3.2.3 released 14 June 2020
Edit the settings for your station - thanks to Ron N8MPF for the suggestion.
SO2R resends your report if you do not respond within a few seconds.
About Box now checks to see if there are updates available and offers a link to download them.
Version 3.2.4 released 20 June 2020
About Box version checking fails with an error is you are not connected to the Internet - thanks to Kerry JF1FSX.
Version 3.2.5 released 21 June 2020
Version 3.2.6 released 29 June 2020
Correct an error in the callsigns exchanged in ARRL SS - thanks to Dick K7RB for the report.
Version 3.2.8 released 23 July 2020
Corrected functionality of the F2 and F5 key - thanks to Ken K4EES for the suggestion.
Updated CW Ops database.
Version 3.3.1 released 26 July 2020
Added a contest timer - thanks to Ken K4EES for the suggestion.
Added configurable generation of cut numbers for membership numbers etc. - thanks to Ken K4EES for the suggestion.
Added a DQRM generator - thanks to Ken K4EES for the suggestion.
Temporarily removed the misleading section in the About window concerning modifying keystokes, it will be back - thanks to Ken K4EES for the suggestion.
Version 3.3.2 released 28 July 2020
Incoming speed no longer adjustable - thanks to Ron KF8O for reporting it.
CQWW Zone not evaluated correctly - thanks to Jim K9SE for reporting it.
Version 3.3.6 released 31 July 2020
Enter Sends Message (ESM) now an operating option - enabled by a checkbox in My Station.
NAQP contest added - thanks to Jim K9SE for the suggestion.
European VHF Field Day contest added - thanks to Martin DL1MTG for the suggestion.
Pile Up callsigns now stand off a random and different time before resending their callsign - thanks to Jim K9SE for the suggestion.
Version 3.3.9 released 18 August 2020
General improvements to the code with bug fixes to ESM and ARRL SS contest.
Registration details are no longer shown in the 'About' window if the software is registered.
There is now an option when using ESM to automatically move the cursor to the report field after sending the calling callsign and report - thanks to Frank W2XYZ for the suggestion.
F6 now sends CL? to request a repeat of the callsign - thanks to Frank W2XYZ for the suggestion.
ARRL SS now sends the correct callsign as part of the exchange and not the one that you entered - thanks to Jim K9SE for spotting that one.
Version 3.4.1 released 21 August 2020
Fix to ESM for the IOTA contest so that it does not require an IOTA Reference to log the QSO.
Launch of the Contest Leader Board Find out more here - thanks to Ken K4EES for sowing the seed in my mind.
Version 3.4.3 released 22 August 2020
Added 'Run Just Numbers' tab which tests your number copying skills. Use Cut Numbers from 'Incoming Stations' tab to determine how they are sent to you - thanks to Jim K9SE for the suggestion.
Version 3.4.5 released 26 August 2020
Improvements to the Leader Board code - you can now see your highest score for each contest and optionally view the Leader Board.
Version 3.5.1 released 15 September 2020
Fix to the ARRL Sweepstakes Check value which is stored in the database as -1 for some callsigns - thanks to Jim K9SE.
Change to the frequency of request for a repeat of you report from 33% to 10% - thanks to Jim K9SE for the suggestion.
Redefinable function keys are back after a hiatus!
Version 3.5.2 released 3 November 2020
Randomised the CQ Zone for North American stations - thanks to Costa M0HOJ for the suggestion.
Version 3.5.4 released 5 February 2021
Error using F2/F5 to request a callsign repeat - thanks to Rick N1RM for pointing it out.
Occasional 'Not An Integer' error in SKCC contest - thanks to Ed KQ4R for pointing it out.
Version 3.5.8 released 7 May 2021
Fix for the IOTA contest where the station worked did not send a signal report.
Rework of the Morse speed for Callsigns and Numbers, it now works as originally planned - thanks to Ed KQ4R for pointing out the error.


More updates in the pipeline - check back regularly regularly or open the app About window to check.
I am always looking for user feedback, suggested modifications and improvements- email me with yours!
---